About the game
Characters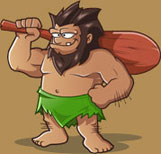 Ugo
A savage and fearless human being, hunter of dinosaurs and top of the food chain. That's what Ugo wants to be. Not a very smart guy, but still a good hunter, he just has two things in mind: food and more food.
Ugo spends every day doing what he likes most, and don't even think about changing this day-by-day.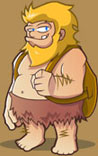 Dawson
Unlike the general cave men, Dawson is much more brain than muscles. He thinks that life can go beyond than just hunting, eating and sleeping. Maybe he's the one who will lead human race one step ahead in evolution. But of course, he doesn't know that.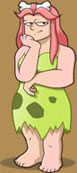 Ula
A cave woman ahead from her own time. Very smart and sensitive - and also a good hunter - she tracks for a man to start a family, and find that man in Dawson. Her relationship with him is very stable, even if she often needs to force Dawson to make things for her, with, of course, much love.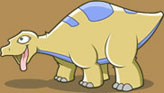 Petruscius
A wild and rare dinosaur found in the jungle, Petruscius is very friendly, but still spirituous. He can be the best friend for an adventurer, but for Ugo, he'll be that and also his brain.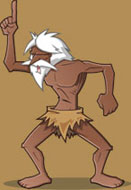 Oberon
The oldest and wisest cave man around, Oberon is a hermit that keeps studying and discovering things to understand the world he lives on. Although, he has a brain aged by the time, which makes him a little crazy. Just a little.
Other Characters

Muna
An old lady looking for little adventures. When she puts something on her head, it's hard to make her change her mind. So, if she wants to go somewhere, she will, and nothing is going to stand on her way, even if Ugo or Dawson have to do it for her.

Lok
An experienced man who devotes his life into training his physical abilities to be the best on everything, since hunting dinosaurs to swimming. He keeps challenging peers and almost always wins. He hates losing, but recognizes the one who beats him.

Alan
He is a friendly, good looking young cave guy. He has always been very vain, proud to show people his shiny face. But he has also always been a bad lucked guy, since nature itself decided to "bug" him. Literally. Now he often needs help to move around, and that's when Ugo and Dawson come along.
Fauna
As you travel through the world of Cave Days you will be face-to-face with the most dangerous creatures on Earth, the dinosaurs. Even though Ugo and Dawson are such great hunters, you have to be very careful for some of those dinos are really strong and smart.

Soldier: Small red dinosaurs, they won't mind having you around as long as you don't touch them. Their meat is hard and has a bad taste; it's not worth hunting them.
Toxic Soldier: An evolution of the red soldier, living among big dinosaurs has given them the ability to release poison through their spikes, you'd better not touch them either.
Raptor: They're fast and smart; if they see you they'll do anything to have a piece of your pink meat. They are strong and won't come down with just one hit.
Berserker: Evolution has created a more dangerous version of the normal green raptor. With improved senses they can see you miles away and with thicker skin they are more resistant against physical attacks. If you're bold enough to face be sure to be in your top condition.
Spiders: Those pesty little spiders can really bug you sometimes. Keep distance from them.

Triceratops: You will most likely to find them sleeping but if you happen to wake him up get ready for a fierce confrontation.
Fishes: They may look inoffensive, but their pink skin is a sign of great danger, try not to touch while underwater.
T-Rex: The king of all Dinosaurs, he's big, strong, fast and very furious. You probably won't be able to take him down so easily. There's only one thing he's afraid of, wonder what it is.

Pterodactyl: The danger might come from above. They usually just wander around in the skies, but if he sees some knocked down Dinosaur on the ground he'll dive at full speed at it, and you'd better not be in his way.
Jaws: Their teeth are sharp enough to bite a rock, as you're probably not as strong as one you might want to stay away from those.

Sheep: This dinosaur is guaranteed to give you a great meal, they're big, they're slow and they don't attack you, of course you won't find them everywhere but if you do, don't miss the chance.
Sneako: Little purple dinosaur who just love to chew on fruits. They hide behind stones and love to collect small gems, you're lucky if you happen to find one.

Runner: Those dinosaurs are weak and their meat is soft and sweet. You can have a taste of them if you happen to be fast enough to catch on of those.
Insects: Not only of dangerous lizards the fauna of Cave Days is made of. You will find little and inoffensive bugs all around, they will probably run away from you, but if they were bigger, they would eat you alive.